trends newsletter
February 25, 2020
Practical tips for investing and growing your business.
The fastest-growing consumer-facing startups. The 11 best A/B testing tools. How to close enterprise sales. 5k+ email marketing designs that work. The hidden metrics of email deliverability. Why VCs love SaaS businesses.
Breaking Into the $15B Executive Recruiting Industry
The executive recruiting business has sparked a lot of interest within the Trends community in recent weeks.
Sam explored the numbers behind one executive search firm in our Facebook group, and he and Shaan discussed the business on their "Million-Dollar Brainstorm" last week (21:00 mark).
We decided to dig deeper into the industry to identify white space in the market.
Our report gives a broad overview of the business, examining the key players and historical growth.
We found that executive recruiters enjoyed their best year ever in 2019 — but that the industry is prone to dips as the economy lags.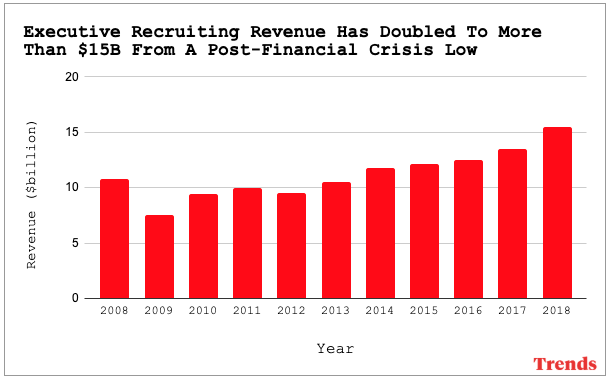 The largely commission-based roles can be quite lucrative. According to one industry insider we spoke to, many recruiters collect in the "mid-hundreds of thousands" to millions of dollars annually.
With C-suite recruiting cornered by 5 firms and middle-manager roles proliferating on Linkedin and job sites, our research suggests there are opportunities to break into the industry in the following areas:
Our research also identified the recruiting opportunities in private equity-favored industries like Life Sciences and Manufacturing, and industries with high-ranking, industry-specific search results, including Marketing and Public Relations.
Read our full report here →
Trends Signals

Quick snapshots from across the internet of potential trends before they happen.
Red Light Therapy is Trending Up, But Health Benefits Are Less Clear
Source: Google Trends
Available exclusively to Trends subscribers
Understand upcoming market trends, receive our premium weekly report, access our database of research, and network with the smartest people we know
7 Day Trial
Join Trends now for $1!
Hear from our members:
Gagan Biyani
Co-Founder / Udemy
Few places bring together so many engaged hustlers around new ideas, changes in the markets and product/services recommendations.
Adrian Salamunovic
Founder / Author of "Free PR"
The network is amazing. Where else do you see founders of 9 figure companies helping founders who are just getting started?
Jack Smith
Co-Founder / Vungle
The community is very collaborative and people in there have offered introductions for me, not wanting anything in return.
What do you get with Trends:
Private Community
The most powerful business peer group
Connect with thousands of the world's most successful entrepreneurs, executives and insiders. Collectively, Trends members have companies with tens of billions in revenue.
They say you're the average of the 5 people you spend most of your time with. Are you surrounding yourself with the right people? You are now.
Weekly Case Studies
Curated stories from the business world
Dive into the success stories of companies around the world and discover how they achieved.
How One Company Created a Niche Market for Young People Who Want Fancy Bibles
How to Capitalize Early on the Fast-Growing Sports Gambling Industry
How Moiz Ali grew Native Deodorant from $0 to $100m acquisition in 2 years
How The Athletic Grew a Niche Audience to ~1m Subscribers in 4 Years
Market Signals
In-depth trends analysis & monitoring
Discover what's trending before it goes viral
Don't press snooze on this opportunity: sleep supplements
The signal: As meditation becomes mainstream, people may be surprised to find that searches for sleep apps double their meditation counterpart. As people invest in getting a better night's rest, there's opportunity abound, including physical products like weighted blankets or premium PJs, supplements, popular insomnia drugs having their patents expire, companies paying their employees to sleep better, marketing for sleep specialists, or online sleep education (ex: sleep apnea test has 27k searches per month).
The alternative milk market is getting frothy
The signal: As more people wave goodbye to dairy, alternative milk is slowly taking over; it has already cornered 13% of the market. With the exception of soy milk, all of the alt-milks have been on the up, with some of the newer entrants including hemp milk and pea milk. Other alt-products are getting attention, including cashew cheese, with 18100 searches per month.
Capitalizing on the Airpods market, making more money than Shopify
The signal: Since killing the headphone jack, Apple has graced the world with AirPods, which did an estimated 60m units in 2019. That means AirPods alone are bringing in approx ~$10b in revenue, more than Twitter, Shopify, or Spotify, to name a few popular tech giants. Opportunity lies in Apple opening up SiriOS or the wave of iPhone accessories (including cases, cleaning kits, hooks, and keychains) which have shown "hockey stick" growth alongside their hardware predecessor.
Weekly Lectures
Leading experts share their knowledge
Attend exclusive lectures from experts in the industry and stay in the know
Sound good?
Gain full access to Trends for $1!
Cancel anytime.
7 Day Trial
Join Trends now for $1!